Loving this! Hahahaha :D

Finally it Friday!!!~ Finally.....Today everything going....well :) Mood is happy hahaha LOL! So.... consider

hahaha :D Good! I

When i'm Happy :) Today Amath retest is easy :) Confirm will pass! If fail......Confirm more than my previous mark hahaha :D Finally know my Chinese oral result :) I'm so happy :D A1 eh!!! Prove to that Chinese teacher face HA! The Whatapp group also very active and funny :) Just because of the colour name they go create new group and the group name is so damn funny!!! But it okay....I'm kind of happy that they still use back the old whatapp group because that have so much memories!! Horoscope sometime is true though.....Because this week suck except for today......The horoscope tell me to hold on and everything will be okay and will be successful....Well... true ^^ Have been fever and headache but i still went to school and band :) Being a typical guai kia i cannot miss any lessons!! Miss lesson = die. YES! I have conquer all the obstacles! But there a new challenges for me :( Next week is like hell also, so many tests!~ *Faint* I have to overcome it! Come on Fann! You can do it! :D Anyway, at night I have a date with this silly girl ;)
Yes! Skype call with her :D And also webcam :D I love her to the very very max man! She my listening ear :D I tell her every single thing!! Bad thing, good thing, interesting thing, emo thing, silly thing etc i everything tell her! We still can tell each other that we shitting! Hahahahaa! We both also very straightforward :D THAT IS WHY I LOVE HER!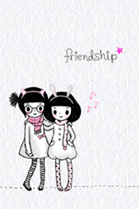 Hope our friendship last long long~ :D HUAT AH!!!
PS: I skip F&N combine with Art lessons again....Because it so damn boring....